Beach Reach Shuttle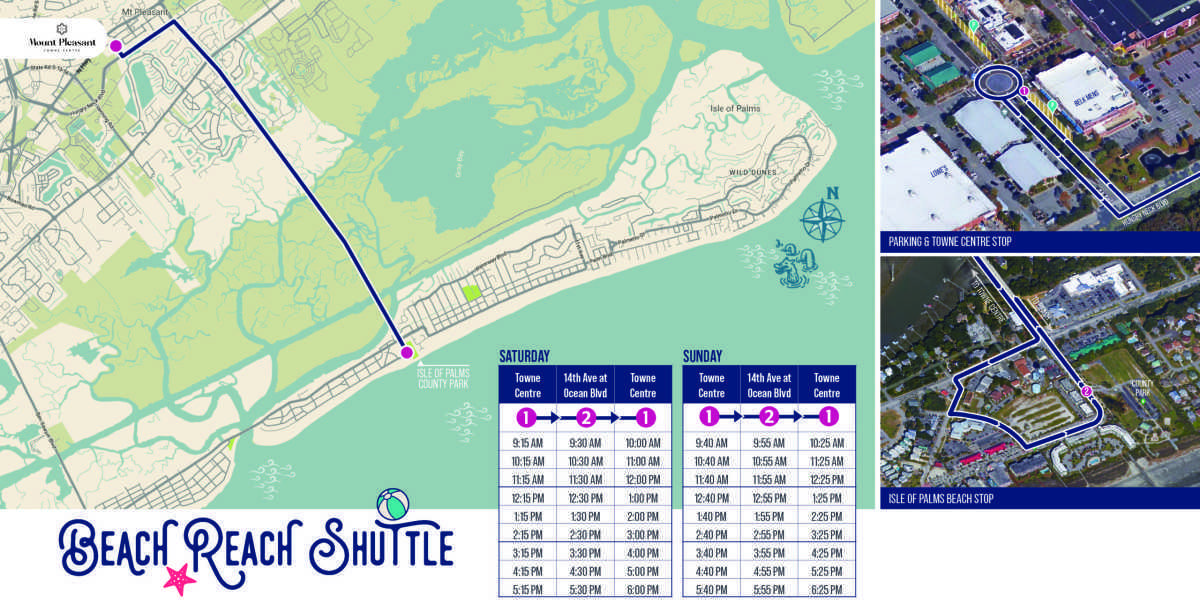 BEACH REACH IS BACK IN 2023!!
Seasonal Service – Shuttle will operate starting Memorial Day weekend and will operate until Labor Day Weekend.
Shuttle will operate on weekends only and on the Mondays of Memorial Day, July 4th and Labor Day.
Shuttle scheduled to run about every hour starting at 9:15am on Saturday with the last trip from the beach at 5:30pm. On Sunday the first trip is around 9:40am and the last trip from the beach is at 5:55pm.
NOTE – Heavy traffic volumes may impact schedule. Download and use our app transit to plan your trip and/or track the shuttle for real time arrival info.
What You Need to Know
Stops
Limited stop service. Shuttle will pick up at Towne Centre at stop ID #715 on Market Center Blvd and will travel directly to IOP stop located at Ocean Blvd, then will return to Towne Centre.
Parking
Towne Centre partnered with CARTA to provide some parking to shuttle riders near the stop location. Click Beach Reach Shuttle Brochure to view the stop and parking area. NOTE: Parking is available throughout Towne Centre where space is available if dedicated parking is full.
Fares
Thanks to contributions from the Town of Mount Pleasant and the City of Isle of Palms, the Beach Reach Shuttle will be fare-free for riders throughout the summer.
Note: Fare suspension applies only to Beach Reach Shuttle service.
Connections
Easy transfer from Rt. 40 and Rt. 42 at stop ID #715 in Towne Centre on Market Center Blvd.
What can I bring on board?
For safety issues, passengers are limited on what can be brought on board the vehicle.
All drinks must be in a spill-proof container or they will not be allowed on board the bus. A simple cup with a lid is NOT sufficient, it must be spill proof.
No alcoholic beverages allowed.
Limited bags and large items: Riders are allowed to bring up to four regular shopping-sized bags. All items must be able to be loaded onto the bus in a single trip (Ex. passengers are not allowed to board the bus, drop items at a seat and return outside to gather more items).

Riders are welcome to bring beach equipment on board the bus; however NO large, bulky items allowed, including but not limited to: tents, large beach umbrellas, surf boards, etc. Items such as chairs, small umbrellas, boogie or body-boards and coolers are allowed but must adhere to other rules listed here.
Beach equipment allowed – must be able to be held by riders or stowed safely beneath the seat. Items at NO TIME may block the aisle or prevent seats from being used by other passengers.*

Shoes/flip-flops, pants/shorts and a shirt are required while riding the bus. Cover-ups are also acceptable.
If you, or anyone in your party is wet, please have a towel or mat to sit on.
Bikes should be placed on the bike rack in the front of the bus — bikes are not allowed on board the vehicle.
No eating or *drinking while on board. **You may drink from a spill proof cup. (Reminder: Alcoholic beverages are prohibited on all CARTA vehicles).
*Skip the hassle of packing and dragging ALL your beach gear – Affordable equipment rentals available on-site.
Violation of any CARTA rules or policies could result in the denial of service.